Nie Rozp. Miód spadziowy 1,2 kg
Duuuuży słoik, w którym mieści sie 1,2 kg = 0,9 L świeżego ciemnego Nie Rozpuszczanego miodu spadziowego skrystalizowanego :))
Nie rozpuszczany miód Spadziowy iglasty specjalnie dla Ciebie :)
Waga 1,2 kg miodu !
Szczególnie zapraszamy  do zakupu tego produktu !
Miód spadziowy z drzew iglastych ma aromat żywiczny i łagodny smak. Jego kolor jest bardzo ciemny, prawie czarny, często z odcieniem zielonkawym. Podobnie jak pozostałe miody miód spadziowy jest polecany ze względów leczniczych.
Najczęściej stosowany jest na dolegliwości dróg oddechowych. Jego działanie antyseptyczne, przeciwzapalne oraz wykrztuśne dobrze wpływa na przeziębienia jak i poważniejsze choroby, jak choćby zapalenie płuc.
Spożywanie tego gatunku miodu także dobroczynnie wpływa na serce i układ krwionośny poprzez działanie przeciw miażdżycowe. Miód spadziowy używany jest również na schorzenia stawów i układu nerwowego. Oczywiście polecany jest też w przypadku obniżonej odporności organizmu.
Niektórzy jednak spożywają miód spadziowy tylko i wyłącznie z powodu jego niespotykanego gdzie indziej aromatu i lekko słodkiego smaku. Wszak miód nie jest lekarstwem a jedynie substancją, która posiada wiele biologicznie czynnych składników i tym samym działa dobroczynnie na pewne dolegliwości i choroby oraz pomaga w leczeniu. Warto jednak regularnie spożywać ApiMiodek spadziowy, bo zawiera on bardzo dużo substancji odżywczych, minerałów, witamin oraz pierwiastków, które potrzebne są każdego dnia.
Badanie jakości:
W celu określenia ile miodu spadziowego jest w miodzie spadziowym, czyli ile jest w nim spadzi, a ile nektaru z innych roślin, stosuje się badanie przewodności właściwej miodów spadziowych.
Miód kwalifikujemy wykonując badanie na przewodność w specjalistycznym laboratorium weterynarii
Minimalna przewodność elektryczna miodu  spadziowego to 1,1 mS/cm
miód przez nas oferowany z powodzeniem spełnia normę, gdyż jego przewodność elektryczna to 1,31 mS/cm
miód ten posiada również 17,6 % wody, co klasyfikuje go jako miód gęsty :)
dla zainteresowanych poniżej skan wyników badania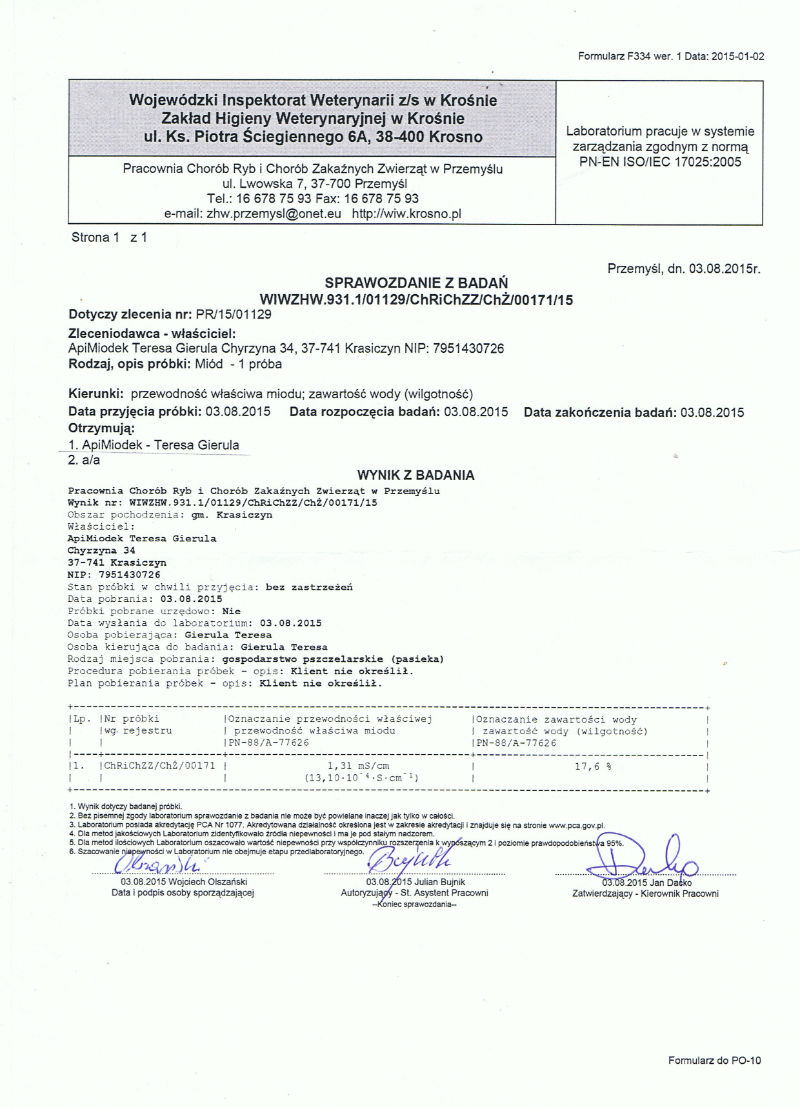 Miód nie rozpuszczany tłoczony jest do słoika na zimno w stanie półpłynnym ! Charakteryzuje sie zawsze konsystencją stałą, lub półpłynną.
Stopień przetworzenia produktu
100 % NATURALNY

Opinions about Nie Rozp. Miód spadziowy 1,2 kg
5.00
Number of opinions issued: 1
Click the rating to filter reviews