Buckwheat Honey
( number of products:

4

)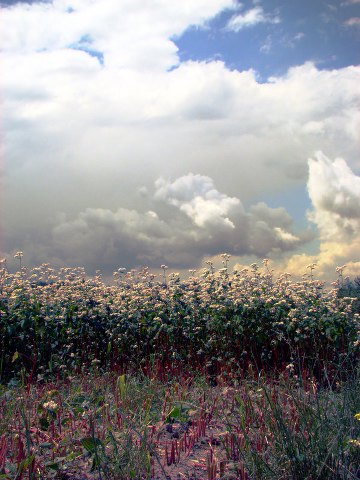 Miód gryczany
Miód gryczany jest jednym z tych miodów, które są dość mocno charakterystyczne. Jego główną cechą rozpoznawalną jest kolor, który jest ciemnej barwy. Kolor ciemno-brązowy oraz intensywny zapach kwiatów gryki są jego znakami szczególnymi.
Znakomicie sprawdza się jednak jako dodatek do napojów, wypieków czy wytwarzania miodu pitnego. Podobnie jak i inne miody, pszczeli miód gryczany ma wiele właściwości leczniczych. Jednak miód gryczany jest jednym z najbardziej wartościowych miodów obok miodu spadziowego. Istniej bowiem zasada, że im ciemniejszy miód tym więcej posiada składników sprzyjających naszemu zdrowiu. Zasada ta jak najbardziej sprawdza się, widać to bardzo dobrze właśnie na przykładzie miodu gryczanego.
Bardzo znakomity wpływ na układ krwionośny miodu gryczanego znany jest już człowiekowi od wieków. Polecany jest on bardzo często w leczeniu niedokrwistości. Istnieją nawet przypadki wyleczenia wrodzonych wad serca oraz naczyń krwionośnych dzięki kuracji wzbogaconej właśnie o miód gryczany. Miód ten zawiera bardzo dużą ilość żelaza i innych pierwiastków pozytywnie wpływających na nasze zdrowie. Żelazo zawarte w miodzie gryczanym jest w pełni przyswajalne w przeciwieństwie do żelaza zawartego na przykład w mięsie czy warzywach. Tak dobra przyswajalność jest zależna od obecności innych składników zawartych w miodzie. Wiele osób uważa nawet, że naturalny miód gryczany posiada także właściwości odmładzające. Bardzo dobrym pomysłem jest więc wzbogacanie naszych posiłków miodem gryczanym, powoduje to bowiem zwiększenie wchłaniania żelaza przez nasz organizm.
Dodatkowo miód taki może być znakomitym dodatkiem do kawy. Bardzo wiele osób bowiem stosuje go zamiast cukru. Takie działanie na pewno wyjdzie nam na zdrowie. Dlatego też warto jest zawsze mieć pod ręką słoik miodu gryczanego. Jego dostępność oraz łatwość zakupu również pozytywnie przemawia za jego wyborem.
Poleca Ekomiodek.pl