Heather Honey
( number of products:

2

)
Miód wrzosowy
Miód wrzosowy jest bardzo esencjonalny i posiada silny naturalny zapach wrzosu dzięki zawartości olejków eterycznych i stu dwudziestu innych substancji, pochodzących z nektaru. Jego smak jest raczejłagodny i lekko gorzkawy , co jest mało popularnym zjawiskiem wśród odmian miodu. Ten rodzaj miodu nie zawiera wielu witamin, za to ich brak rekompensuje duża zawartość enzymów i wolnych aminokwasów.
Miód wrzosowy zawiera bardzo dużą ilość hormonów wzrostu, neurohormonów i aż czterdzieści siedem biopierwiastków, które są w łatwy sposób przyswajalny dla organizmu człowieka. Jednak nie sądźmy, iż w miód nie posiada jakichkolwiek witamin. Tak jak wspomniano wcześniej, jest on ubogi w te składniki odżywcze jednak miód pszczeli wrzosowy jest obfity w witaminę B. I to można zaliczyć to jego dużego atutu.
Już od wielu lat są także znane uzdrawiające moce miodu. Posiada on właściwości antyseptyczne, jak również idealnie sprawdza się, jako lek w chorobach oczu, serca i układu pokarmowego. Należy tu również wspomnieć o cudownych skutkach, jakie posiada miód wrzosowy, przy leczeniu przeziębień oraz chorób grypopodobnych. Inhubina, która jest składnikiem miodu-jest substancją hamującą rozprzestrzenianie się bakterii i wirusów w organizmie człowieka.
Miód wrzosowy, może być świetnie się sprawdza, jako dodatek do potraw. Sosy słodko-kwaśne, mięsa w zalewie miodowej czy nawet jogurt, urozmaicone dodatkiem miodu- mają niepowtarzalny i oryginalny smak. A przy tym i takie potrawy są zdrowe. Nikt nie zaprzeczy genialnemu działaniu miodu. Jest często stosowany w kosmetyce, jako składnik upiększający i wygładzający. Jeśli zmieszamy go z dodatkowym suplementem, może odgrywać rolę peelingu i maseczki. Pamiętajmy, że już Kleopatra doceniała właściwości ówże produktu, kąpiąc się w mleku i miodzie. Dlaczegoż i my nie możemy korzystać z takich cudownych i w stu procentach naturalnych kosmetyków, przypraw czy środków leczniczych?
Należy tu również wspomnieć, iż miód w doskonały sposób zastępuje cukier i w przeciwieństwie do białej słodyczy- nie zagraża naszemu zdrowiu. Często stosujemy pszczeli miód wrzosowy do herbaty, kawy, kakao. Taki napój ma właściwości rozgrzewające i niejednokrotnie zapobiegł chorobie. W miód możemy spotkać o wielu smakach. Głównym znaczeniem w jego tego typach walorze jest skąd miód pochodzi i z jakiego nektaru został wykonany. Miody o jaśniejszej barwie mają delikatniejszy i bardziej słodki smak. A te o ciemniejszym kolorze, są bardziej ostre i mniej słodkie. Stosujmy ten wspaniały wynalazek natury, na co dzień. Tylko dwie łyżeczki dziennie tego produktu, sprawi, iż znacząco podniesie się nasza odporność, nasza skóra będzie gładsza i serce będzie bić mocniej.Reasumując przy tak wielu pozytywnych cechach miodu wrzosowego, jego wartość jest nie oceniona.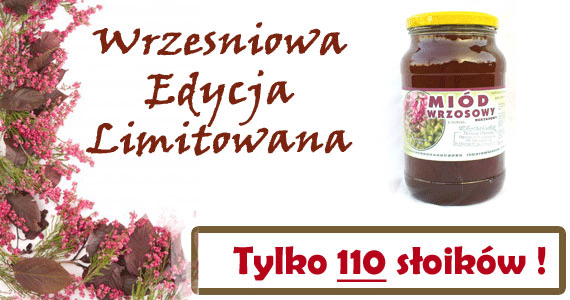 Sold out
12,86 €

/

incl. VAT
1150

PTS
1,07 € / 100g
incl. VAT
Honey color:

Consistency:

Harvest season:

Packaging:
Sold out
17,89 €

/

incl. VAT
1600

PTS
1,49 € / 100g
incl. VAT
Honey color:

Consistency:

Harvest season:

Packaging: